Breaking Free From The Babylonian Health System
Breaking Free From the Babylonian Health System
"But Daniel purposed in his heart that he would not defile himself with the portion of the king's meat, nor with the wine which he drank: therefore he requested of the prince of the eunuchs that he might not defile himself." Daniel 1:8
Daniel would not defile himself with the Babylonian food system and we should be very careful today, as the same food and health systems are all around us.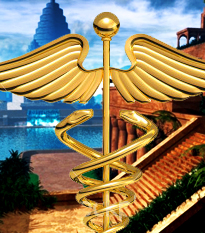 If you have followed my Insight's blog for a while, you have seen my health posts. I have warned that the Babylonian medical system would move against Vitamin D3. They have to because it is natural and cannot be patented, and therefore; they loose $ billions when people are healthy and do not need their drugs or doctors. I know this sounds cruel, but it is true as I clearly showed what the Babylonians tried to do with Vitamin E! They tried to destroy the benefits of Vitamin E with bogus studies using synthetic Vitamin E rather than natural E. I pointed this out over and over again and showed many of the studies which proved just how beneficial Vitamin E is.
The problem for the Babylonians is that if Vitamin E was effective there would be no need for their blood thinners! They would lose $ billions. Vitamin E has no side affects while the blood thinners can destroy the liver and kidneys. In the long run, real science proved how effective this vitamin is and overcomes the lies of the Babylonians. The same is now happening with Vitamin D3. No one that I am aware of ever died from an overdose of Vitamin D3. I never even  heard of anyone getting sick from it. I guess it could happen, but I am not aware of it being reported. Untold numbers of people have died or were injured at the hands of the Babylonians and their medicine. Yet, they act like Vitamin D3 could be harmful or even deadly! What hypocrites who are just out to protect their medical-money-milking-machine.
I know sometimes it is so difficult to comprehend just how corrupt this medical system is as people want to trust their doctors. It is not so much the local doctors, but the heads of the various schools and boards. The treatments flow from them to the local doctors who must follow it or be subject to lawsuits. I see much of the this system like a medical cult which will not change no matter how much truth is presented to them.
Now they are training their "big guns" on Vitamin D3. I warned that it was coming as people taking Vitamin D3 are a threat to their profits. The following is the latest hit job with not an ounce of truth in it.
Panel to postmenopausal women: Don't take vitamin D, calcium 06/12/12 I have posted hundreds of studies showing the benefits of Vitamin D3. The government advisory panel ignores all those studies to produce something like the following. This is a real hot-button issue of mine.
"A government advisory panel's recommendation Tuesday that healthy postmenopausal women should not take daily low doses of vitamin D and calcium to prevent bone fractures is a wakeup call to millions of Baby Boomer women that more is not always better. The panel said there is insufficient evidence to evaluate larger doses, easy to overdo with chewy chocolate supplements that can seem like candy. In its draft recommendations, the U.S. Preventive Services Task Force also said existing research is insufficient to assess the risks or benefits of taking vitamin D — with or without calcium — to prevent cancer in adults."
Vitamin D With Calcium Increases Lifespan 06/14/12 At the same time the advisory panel released its attempted "hit job" about Vitamin D3, a huge study was released from Denmark showing yet another benefit of Vitamin D3! Their lies were exposed the very day the report was released! One other thing to keep in mind is that the benefit is from Vitamin D3 and not D2. Watch for the Babylonians do studies on D2 and try to pass it off as a real study.
"This is the largest study ever performed on effects of calcium and vitamin D on mortality," said Lars Rejnmark, Ph.D., of Aarhus University Hospital in Denmark and lead author of the study. "Our results showed reduced mortality in elderly patients using vitamin D supplements in combination with calcium, but these results were not found in patients on vitamin D alone."
This article also listed some of the proven benefits of Vitamin D3. The list follows:
Vitamin D has been shown to give health a boost in many areas including:

• Heart disease. A British study found that middle-aged and elderly people with high levels of vitamin D reduce their risk of heart disease by 43 percent.

• Stroke. A study published in Stroke found that men who consumed the least amount of vitamin D in their diets increased their risk of stroke by 22 to 27 percent when compared to those who consumed the highest levels.

• Breast cancer. An analysis of two studies found that women with the highest amounts of vitamin D in their blood lowered their risk of breast cancer by 50 percent when compared to women with the lowest levels.

• Diabetes. Australian researchers concluded that people with below-normal vitamin D levels increased their risk of developing Type 2 diabetes by 57 percent when compared with people whose levels were normal.

• Colon cancer. Cancer prevention specialists at the Moores Cancer Center at the University of California found that high amounts of vitamin D could cut colon cancer rates by two-thirds.

• Bone health. Studies have found that people with a vitamin D deficiency absorb 65 percent less calcium than those with normal levels, raising the risk of bone fractures. A British study concluded that having adequate vitamin D levels could reduce hip fractures by as much as 50 percent. Yet the U.S. Preventive Services Task Force issued a draft recommendation on Tuesday advising against healthy postmenopausal women routinely taking vitamin D and calcium supplements in doses equivalent to the usually recommended daily allowance. The supplement doesn't prevent bone fractures, the panel said, and could actually be harmful.

• Parkinson's disease. A Finnish study published in the Archives of Neurology studied 3,173 men and women aged 50 to 79 over 29 years. They found that those whose vitamin D levels were in the top 25 percent had a 67 percent lower chance of developing Parkinson's disease than those in the lowest level — the bottom 25 percent.

• Brain health. Recent research published in the Journal of Alzheimer's Disease found that vitamin D may work at the cellular level to clear the brain of amyloid beta plaques associated with memory-destroying disease.
If you are not taking Vitamin D3 supplements, I highly suggest that you start.
Remember you are responsible for your own health and not  the Babylonian system.
3 John 1:2 Beloved, I wish above all things that thou mayest prosper and be in health, even as thy soul prospereth.