It is very important that everyone realize they are responsible for their own health, and do not leave your health to medical establishment. I learned at a very early age that I was responsible for my health and no one else.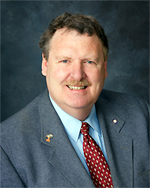 When I was about 15 my step-father developed pains in his chest and had difficulty breathing. He went to his doctor and was diagnosed with bronchitis. He was treated for about six weeks but steadily got worse. I remember him walking around; rubbing is chest and spitting blood. We went to different doctors, and I suggested that he to go to my doctor for a second opinion. After several visits to his doctor, he finally went to mine. My doctor listened to his heart and immediately called for an ambulance and took him directly to the hospital. He was suffering from congestive heart failure! He had suffered severe heart damage and only lived for two more years. He died of a massive heart attack at 39 years of age. How could a doctor miss this condition for six weeks!
The following year my grandfather was diagnosed with cancer and died shortly afterward. His doctor had treated him for all sorts of ailments and finally after more than a year took an x-ray. By this time the cancer was so advanced that nothing could be done to help him.
I was present when both died, and it was not a pretty sight. They both died at home a little more than a year apart. This left a lifetime impression on me. I realized not to trust doctors, but that I was responsible for my health. To this day, I do not trust doctors but investigate on my own to verify what the doctor is doing. I will not hesitate to directly challenge a doctor.
While all this was going on with the doctors, I read Dr Linus Pauling's revolutionary research on vitamin C. This ignited my lifetime study of nutrition and health. I study nutrition just as a hobby. Through all these years, I have seen many fads and frauds in the nutrition field. There are far less today than years ago, as the fraud is soon exposed and quickly disappears. There are many nutritional researchers today that can quickly expose a fraud.
In the early 1990s, I started a ministry called Bible Health Foods. I studied all the foods in the Bible and found how fantastic they were for our health. Many of these foods are listed below. It was sad because I had to end the ministry. People in general had no interest, especially Christians. Pastors claimed I was a legalist and people could eat whatever they wanted. In the end, I went back to helping family and friends. I found that most people do not care about nutrition until they are sick. It is unfortunate that this is the time when most people are willing to listen. Some have let their health deteriorate so far, that the sickness is irreversible.
John holds a B.S. from Virginia Commonwealth University in Richmond, Virginia, and an honorary PhD in Biblical Studies from Calvary Christian College. He served 26 years as a Federal Treasury agent before retiring in 1998.
He is author of the acclaimed book God's Final Warning to America, and co-author of the bestseller Israel: The Blessing or the Curse. From his experience debating, John wrote the Only Jesus of Nazareth series. This series includes: Only Jesus of Nazareth Can Sit on the Throne of David and Only Jesus of Nazareth Can Be Israel's King Messiah. Additionally, he has written several tracts, including Muhammad or Jesus: The Prophet Like Unto Moses, and The Koran vs the Bible.
John is married and the father of four children and five grandchildren. He resides in central Pennsylvania.